Watch the TOPJOBclick overview video and login to the demonstration environment, see for yourself how easy it is to use.

Start spending less time with paperwork, and more time growing your Cleaning Business
At a glance
1- TOPJOBclick Overview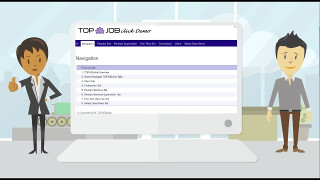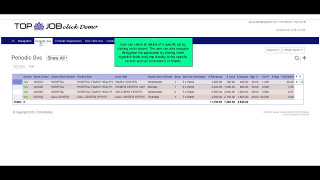 2- How to Navigate
TOPJOBclick Tabs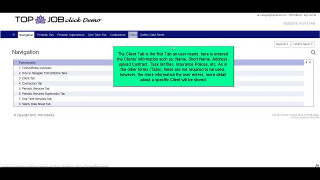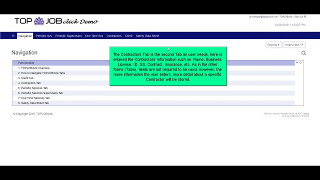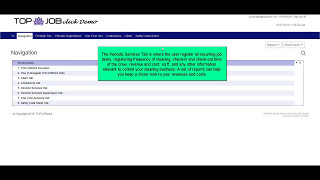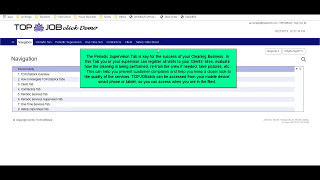 6- Periodic Services
Supervision Tab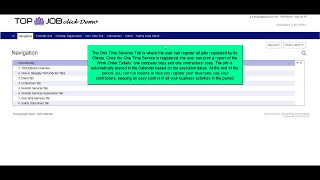 7- One Time
Services Tab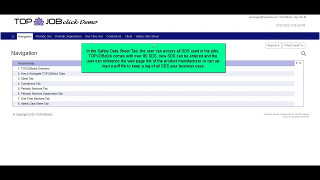 8- Safety Data
Sheet Tab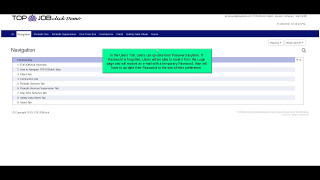 TOPJOBclick Cleaning Solution is a simple to use, self-service web application that helps you manage the tasks of your commercial cleaning business. Avoid late office hours with post-it notes, cumbersome spreadsheets and missing appointments, with TOBJOBclick you will be able to:
Manage your Periodic Services, those are repetitive cleaning services you deliver that have a frequency, such as periodic office cleaning;
Manage your One Time Services, those are cleaning services that are not repetitive, usually cleaning or floor care requests from Clients, such as post construction cleaning or a stripping and waxing of a VCT floor;
Run reports to help your billing and payout processes, supporting you to create your invoices and cut your checks, manually or in QuickBooks;
Get a clear picture of how your calendar looks like with all your One Time Services appointments in your schedule;
Record your visits to your cleaning sites when you are supervising the work of your crew, that way you can monitor the quality standards of your Periodic Services. You can do that using the mobile version of TOPJOBclick in your smartphone or tablet;
Keep record of the Safety Data Sheets you use in your cleaning business, all in one place and with easy access;
Manage your clients' and your contractors' list and have all their relevant information handy.
Try it for yourself
This is a self-service demonstration environment where you can use the application and evaluate how it fits your cleaning business needs. You will be able to use all functionalities, including the mobile version that you can access from your smartphone or tablet, just open your mobile browser at wff.topjobclick.com/Demo/. With these User IDs you will not be able to delete records, but you can create, view or modify any record.
The user guide of TOPJOBclick is in the Navigation Tab, which is the default Tab once you log in. In the Navigation Tab you can learn how to use all functionalities in TOPJOBclick but, if you have any questions, you can e-mail it to support@topjobclick.com and our support team will be happy to help you.
You can try TOPJOBclick for yourself, no need to enter credit card or submit your information to us, just click in the logo below to login:
Request a free trial
Your TOPJOBclick Trial will be available for 30 days. At the end of the trial period, if you decide to subscribe, you can keep all the data you have entered or you can request a new TOPJOBclick.
To request your free trial, submit the request form, you will receive an email with your access.
Pricing
TOPJOBclick offers a progressive licensing service, designed to make it affordable to all size of cleaning businesses.
You can cancel your monthly subscription of TOPJOBclick at any time, no questions asked. All your data will be provided back to you in a spreadsheet format, and purged from the TOPJOBclick database.
TOPJOBclickmicro-business
$35.00 per month
Cleaning businesses with annual revenues up to $120,000 a year, ($10,000 monthly)*
1 superuser (user able to delete records)
1 manager user
No map functionality available
TOPJOBclicksmall-business
$75.00 per month
Cleaning businesses with annual revenues up to $1,200,000 a year, ($100,000 monthly)*
1 superuser (user able to delete records)
Up to 3 manager users
No map functionality available
TOPJOBclickmedium-business
$750.00 per month
Cleaning businesses with annual revenues greater than $1,200,000 a year, ($100,000 monthly)*
1 superuser (user able to delete records)
Up to 6 manager users
Map functionality available

* Your subscription level can be monitored by running the Report My Total Monthly Revenues. Changes to your subscription level can only be made upon your request, however you will need to comply with the progressive licensing service level.
TERMS OF SERVICE
THESE TERMS AND CONDITIONS ARE THE CONTRACT BETWEEN YOU (THE "CUSTOMER" or THE "CLIENT") AND AIRBRIDGE IMPORT EXPORT, INC ("AIRBRIDGE") RELATING TO YOUR USE OF THE SOFTWARE INCLUDING BUT NOT LIMITED TO AIRBRIDGE AND ALL APPLICATIONS PROVIDED ON THIS WEBSITE (THE "SERVICE"). PLEASE READ THE TERMS AND CONDITIONS CAREFULLY BEFORE SIGNING UP FOR, OR USING, THIS SERVICE.
By using the Service provided by AIRBRIDGE, you are agreeing to be bound by the following terms and conditions. In addition, you fully understand, accept and agree to be bound by the AIRBRIDGE License Agreement.
Section I. The Services
In connection with your use of the Service, you agree to:
obey the law;
obey any codes of conduct or other notices we provide you; and
promptly notify us if you learn of a security breach related to the service.
You are solely responsible for all uses of your account under your password. You must protect your password.
Payment
Upon signing up for the Service you may or may not be eligible for a trial period in which you can use the Service without charge for a period of time (typically 30 days) for the purpose of evaluating the suitability of the Service to your needs (the "Trial").
Once your Trial period has expired, You must provide us payment, billing, and contact information to continue use of the Service. You represent and warrant that such information provided is true and that you are authorized to provide and use such information. You are responsible for updating your account information on a timely basis with any changes including but not limited to billing address and credit card information that may occur.
Upon furnishing payment and billing information, you hereby authorize AIRBRIDGE (or an authorized payment gateway such as BMT Micro or Square) to charge your credit card or other payment instrument in advance on a periodic basis until you terminate your account. You further agree to pay any additional charges that you may incur including but not limited to additional storage and/or bandwidth requirements. After each charge, a payment confirmation notice will be emailed to you. If you dispute any charges you must let AIRBRIDGE (or the authorized payment gateway such as BMT Micro or Square) know within fifteen (15) days after the date that you were charged for the service.
AIRBRIDGE reserves the right to change the terms and/or prices of the Service. You will be notified of such changes on AIRBRIDGE's website or in an email correspondence to you at least 30 days before the changes are to take effect. Your continued use of the Service after the changes become effective constitutes your agreement to accept the terms and pay the changed amount.
You will provide us contact information, including a postal and email address, where we may contact you with information about your account or our products or services. It is your responsibility to ensure that such information is entered correctly and is kept up to date.
Your use of the Service is at your sole risk. The Service is provided on an AS IS basis, may or may not be available and may not function as required.
AIRBRIDGE make no express or implied warranty of the quality or suitability of the Service for any purpose.
AIRBRIDGE will make reasonable effort to preserve and protect your data, but make no guarantees that it won't get lost, corrupted, or inadvertently leaked. You should back up critical data or take other steps to protect your vital information.
Support
You agree that AIRBRIDGE provides support separately to the Service. However AIRBRIDGE agrees to provide a level of support (whether technical support or otherwise) as part of this service, but that said support is provided for the Service on a limited basis. AIRBRIDGE agrees to assist you on an as-available basis, including but not limited to email. Other users of the Service may provide support assistance, but AIRBRIDGE make no guarantees and have absolutely no responsibility for the quality, accuracy or suitability of said support. Any such support will be used as your own risk.
Availability
AIRBRIDGE make no guarantees about the availability of Service. AIRBRIDGE reserve the right to suspend your account for any reason at any time, not limited to excessive server resource utilization, where 'excessive' is defined at the sole discretion of AIRBRIDGE. You understand and accept that the Service has built-in precautionary safeguards against resource (including, but not limited to, CPU, memory, bandwidth or disk space) utilization in excess of that allowed by AIRBRIDGE that will automatically suspend access to the Service should such excessive utilization be detected. In case of Service suspension, you should notify AIRBRIDGE immediately to determine the cause of the excessive utilization and take any remedial action, if such remedial action is deemed satisfactory by AIRBRIDGE.
Termination
AIRBRIDGE reserve the right to terminate your account for any reason at any time, although AIRBRIDGE may make an export of your data available to you if AIRBRIDGE do so. If your account is terminated, you will be refunded the pro-rated, unearned portion of any amount that you were charged.
You may terminate your account at any time upon may make an export of your data available to you if AIRBRIDGE choose to do so. If your account is terminated, you will be refunded the pro-rated, unearned portion of any amount that you were charged.
You may terminate your account at any time upon ten (10) days prior written notice to us. If you terminate your account and are on a monthly payment plan, you will not be refunded any amount for the month in which you terminated the account, but you will not be charged for any subsequent amount.
You expressly agree that AIRBRIDGE WILL NOT be liable for any indirect, incidental, special, consequential or exemplary damages, including but not limited to, damages for loss of profits, goodwill, use, data or other intangible losses (even if AIRBRIDGE has been advised of the possibility of such damages), resulting from: (i) the use or the inability to use the Applications; (ii) the cost of procurement of substitute goods or services resulting from any goods, data, information or services purchased or obtained through or from AIRGRIDGE; (iii) unauthorized access to or alteration of your transmissions or data; (iv) statements or conduct of any third party on the Applications; (v) termination of your account; or (vi) any other matter relating to the Applications. If you are not satisfied with the Applications, your sole and exclusive remedy is to stop using it. IN NO EVENT WILL AIRBRIDGE BE LIABLE TO YOU FOR ANY AMOUNT IN EXCESS OF THE AMOUNT THAT YOU HAVE ACTUALLY PAID AIRBRIDGE RELATING TO THE APPLICATIONS IN THE TWELVE (12) MONTHS IMMEDIATELY PRECEDING THE EVENT GIVING RISE TO YOUR CLAIM. AIRBRIDGE reserve the right to modify the Service at any time.
You will indemnify, defend and hold AIRBRIDGE, its officers, directors, employees, affiliates and service providers from any claim or cause of action of any kind whatsoever arising out of (a) any data, information or materials of any kind that are input or uploaded to the service using your account, and (b) your use of the service.
From time to time you may give us suggestions or feedback about the Service. If you do so, you hereby grant us an irrevocable, perpetual, royalty-free, fully paid-up, worldwide license to use such suggestions or feedback for any purpose.
AIRBRIDGE reserve the right to modify these terms and conditions at any time upon notice to you, either through mail (written or electronic) or on AIRBRIDGE" website. You agree that any use of the Service after said modification will constitute your acceptance of those modified terms and conditions.
AIRBRIDGE will have the right to assign this Agreement to an affiliate of AIRBRIDGE at any time without notice.
Section II. AIRBRIDGE License Agreement
By using this Service and the Software or Documentation provided by AIRBRIDGE IMPORT EXPORT, INC ("Airbridge") or AIRBRIDGE, you and/or the entity using this Software (the "Licensee") agree to be bound by its terms. If Licensee does not agree to the terms of this License, then Licensee shall promptly cease executing, accessing or using the Software.
Definitions.

Server Machine: An application hosting server on which TOPJOBclick Server Software is installed, that serves the TOPJOBclick Server Software, and provides the Service.
TOPJOBclick Server Software: A runtime engine and related software components executing from the Server Machine, which create a runtime environment for the TOPJOBclick.
Client: An end user or a software program, such as a web browser, that accesses and runs the TOPJOBclick Server Software over a communications network.
Documentation: Technical instructions and other documentation related to the Software, including, without limitation, help files, user reference documentation, training documentation and other technical information.
Software: Software provided to Licensee pursuant to this License: the TOPJOBclick Server Software and any related software components, including, without limitation, software code, executable code, object code, dynamic link libraries, object model, backups, updates, and patches.
User Record: An entry in TOPJOBclick application that directly corresponds to, and enables, the ability a Client has to login to, in order to access and be identified by, said application and/or any services it provides.
Login License: A secondary license, which can be acquired multiple times, enabling additional User Record(s) to be added to one or more TOPJOBclick applications running on a single Server Machine.

INTELLECTUAL property rights, reservation of ownership and restrictions

Ownership. AIRBRIDGE owns the Software and Documentation, which are protected by United States laws and applicable international laws, treaties and conventions regarding intellectual property and trade secret rights. AIRBRIDGE reserves all rights not specifically licensed herein.
Confidentiality. The Software and Documentation is proprietary and confidential to AIRBRIDGE and contains trade secrets and other unpublished content. Licensee will hold the Software and Documentation that is disclosed to or acquired by Licensee in strictest confidence. Licensee agrees that it will take all reasonable measures to protect the secrecy of and avoid unauthorized disclosure or use of the Software and Documentation. Licensee agrees to use any and all reasonable means to protect the Software and Documentation from unauthorized use, reproduction, distribution, or publication. Licensee will not otherwise, take, publish, use, or disclose the Software and Documentation to others for any purpose, except upon the written consent of AIRBRIDGE.
Limited License. The Software and Documentation are licensed and not sold. Subject to the terms of this License, AIRBRIDGE grants to the Licensee a non-exclusive, non-sublicenseable, non-transferable limited single-use license to:

make a reasonable number of copies of the Documentation solely for Licensee's internal business purposes;
use the Software remotely, where access to the Software enables the creation of a limited number of User Records for the purpose of logging-in and identifying a user to the Software, where the number of said User Records must not exceed the number of Login Licenses Licensee has properly acquired for said Server Machine.

Updates. Licensee agrees that any upgrades or updates to the Software or the Documentation do not constitute the granting of another license to use the Software. Licensee may not use the upgrade or update in addition to the Software it is replacing, nor may Licensee transfer the Software which is being replaced to a third party.
Feedback. Licensee may, from time to time, provide suggestions or comments to AIRBRIDGE regarding effectiveness, usability, or performance with respect to the Software or Documentation. AIRBRIDGE has all right, title, and interest to any such comments and may freely use, implement and otherwise commercialize any such comments.
Multiple Client Access. Licensee is prohibited from using the Software with any middleware, application server, CGI, or other software or technology that may enable, known or otherwise, a breach of the limitations specified under Section 2(c) herein.
Restrictions on Reverse Engineering. Licensee may not reverse engineer, decompile, disassemble, or otherwise reduce the Software to human-readable form.
Restrictions on Derivative Works. Licensee may not modify, adapt, or otherwise create derivative works of the Software or any part thereof.
Other Limitations on Use. The Software is not intended for use in, nor deemed suitable for application in nuclear facilities, aircraft navigation systems, air traffic control systems, naval navigation systems, naval traffic control systems, medical treatment of one or more persons, or any other situation where any use of the Software (e.g., due to errors in the Software or due to any other cause in using the Software) could lead to death, personal injury or any other physical damage or to damage to the environment. The Software is not intended for use in connection with any inherently dangerous activity. Licensee agrees not to use the Software in any of those situations and indemnifies AIRBRIDGE for all damage claims that could result from such unauthorized use of the Software.

Termination

Licensee's Failure to Comply Results in Termination of License. This License is effective until terminated. This License will terminate automatically without notice from AIRBRIDGE or judicial resolution if Licensee fails to comply with any of the terms of this License. Upon such termination Licensee must cease use of the Software and destroy the Documentation, and all copies thereof, and all sections herein, except Section 2(c), will survive any termination or cancellation of this License.

Assignability

Non-transferable By Licensee Without Written Consent From AIRBRIDGE. This License is for the original purchaser (the Licensee) and cannot be transferred or assigned by Licensee without AIRBRIDGE 's prior written consent.
Transferable by AIRBRIDGE. This License shall be binding upon and inure to the benefit of AIRBRIDGE and its respective successors, assigns, heirs, or legal representatives.

Export Law Assurances

Export Restrictions. Licensee may not use or otherwise export or reexport the Software (1) into (or to a national or resident of) any U.S. embargoed country (e.g. Iran, Iraq, Libya, North Korea, Sudan and Syria), (2) to anyone on the U.S. Treasury Department's list of Specially Designated Nationals or the U.S. Department of Commerce Denied Person's List or Entity List, or (3) where prohibited by law. By using the Software, Licensee represents and warrants that Licensee are not on any such list or located in, under control of, or a national or resident of any such country.

Warranty Disclaimers

Software Provided As Is. The Software is provided to Licensee AS IS and AIRBRIDGE makes no warranty as to its use or performance.
Disclaimer of All Warranties. AIRBRIDGE DOES NOT AND CANNOT WARRANT THE PERFORMANCE OR RESULTS LICENSEE MAY OBTAIN BY USING THE SOFTWARE OR DOCUMENTATION. AIRBRIDGE AND ITS Affiliates AND SUPPLIERS EXPRESSLY DISCLAIM ALL WARRANTIES, CONDITIONS OR OTHER TERMS, EITHER EXPRESS OR IMPLIED (WHETHER COLLATERALLY, BY STATUTE OR OTHERWISE), INCLUDING, WITHOUT LIMITATION, TO IMPLIED WARRANTIES, CONDITIONS OR OTHER TERMS OF MERCHANTABILITY, SATISFACTORY QUALITY AND/OR FITNESS FOR A PARTICULAR PURPOSE WITH REGARD TO THE SOFTWARE AND ACCOMPANYING WRITTEN MATERIALS. FURTHERMORE, THERE IS NO WARRANTY AGAINST INTERFERENCE WITH LICENSEE's ENJOYMENT OF THE SOFTWARE OR AGAINST INFRINGEMENT OF THIRD PARTY PROPRIETARY RIGHTS BY THE SOFTWARE. AIRBRIDGE DOES NOT WARRANT THAT THE OPERATION OF THE SOFTWARE WILL BE UNINTERRUPTED OR ERROR-FREE, OR THAT DEFECTS IN THE SOFTWARE WILL BE CORRECTED. NO ORAL OR WRITTEN INFORMATION OR ADVICE GIVEN BY AIRBRIDGE OR AN AIRBRIDGE AUTHORIZED REPRESENTATIVE SHALL CREATE A WARRANTY.

Exclusion and Limitation of Damages

Exclusions. IN NO EVENT WILL AIRBRIDGE, ITS AFFILIATES, OR ANY OF ITS LICENSORS, DIRECTORS, OFFICERS, OR EMPLOYEES OF ANY OF THE FOREGOING BE LIABLE TO LICENSEE FOR ANY CONSEQUENTIAL, INCIDENTAL, INDIRECT OR SPECIAL DAMAGES WHATSOEVER (INCLUDING WITHOUT LIMITATION, DAMAGES FOR LOSS OF BUSINESS PROFITS, BUSINESS INTERRUPTION, LOSS OF BUSINESS INFORMATION AND THE LIKE) OR DIRECT LOSS OF BUSINESS, BUSINESS PROFITS OR REVENUE, WHETHER FORESEEABLE OR UNFORESEEABLE, ARISING OUT OF THE USE OF OR INABILITY TO USE THE SOFTWARE OR ACCOMPANYING WRITTEN MATERIALS, REGARDLESS OF THE BASIS OF THE CLAIM (WHETHER UNDER CONTRACT, NEGLIGENCE OR OTHER TORT OR UNDER STATUTE OR OTHERWISE HOWSOEVER ARISING) AND EVEN IF AIRBRIDGE OR A AIRBRIDGE REPRESENTATIVE HAS BEEN ADVISED OF THE POSSIBILITY OF SUCH DAMAGE.
Limitation. AIRBRIDGE's TOTAL LIABILITY TO LICENSEE FOR DAMAGES FOR ANY CAUSE That is NOT EXCLUDED BY SECTION 7(a) ABOVE, regardless of the form of the action, will be limited to the lesser of $500 or the money paid for the Software Licensed herein, where the money paid does not include any additional services rendered by AIRBRIDGE in relation to the software (such as any software customization services). THE PARTIES AGREE THAT THIS section 7(b) SHALL BE ENFORCED INDEPENDENTLY OF AND SURVIVE THE FAILURE OF ESSENTIAL PURPOSE OF ANY WARRANTY REMEDY.

General provisions

Controlling Law. This License will be governed by and construed in accordance with the laws of the State of Florida. Licensee consents to the jurisdiction of the courts located in the State of Florida. This License shall not be governed by the United Nations Convention on Contracts for the International Sale of Goods, the application of which is expressly excluded.
Severability. If for any reason a court of competent jurisdiction finds any provision, or portion thereof, to be unenforceable, the remainder of this License shall continue in full force and effect.
Arbitration. Licensee agrees that the exclusive remedy for all disputes and claims relating in any way to or arising out of this License or Licensee's use of the Software or the Documentation shall be final and binding arbitration, conducted under the Commercial Arbitration Rules of the American Arbitration Association in Florida.
Equitable Relief. AIRBRIDGE reserves the right to seek injunctive or other appropriate relief in any court of competent jurisdiction for any breach of or indicated intention to breach this License in any manner by Licensee that violates or may violate AIRBRIDGE 's intellectual property rights, or may cause continuing or irreparable harm to AIRBRIDGE (including, without limitation, any breach that may impact AIRBRIDGE 's intellectual property rights, or a breach by reverse engineering). The prevailing party shall be entitled to recover reasonable attorney's fees and court costs.
No Implied Waivers. The failure of either party to enforce any provision of this License shall not be deemed a waiver of the provision of the right of such party thereafter to enforce that or any other provision.
Affiliates of AIRBRIDGE. An affiliate of AIRBRIDGE shall have the same rights as AIRBRIDGE under this License and Licensee's obligations owed to AIRBRIDGE under this License shall be owed to the affiliate in the same manner as they are owed to AIRBRIDGE. Affiliates of AIRBRIDGE are (1) any other business entity that controls, or is under common control with AIRBRIDGE, or (2) any successor entity.
* Your subscription level can be monitored by running the Report My Total Monthly Revenues. Changes to your subscription level can only be made upon your request, however you will need to comply with the progressive licensing service level.
Come to TOPJOBclick: login to the demonstration environment to play with it, request your 30 days free trial, and if it is the right solution for your Cleaning Business, go ahead and subscribe.
TOPJOBclick will help you take your Cleaning Business to the next level, if you have any questions, please contact us at support@topjobclick.com.
Learn how your competitors are able to manage so much, in less time, in an organized fashion. You are one Click away to take your cleaning services business to the next level.